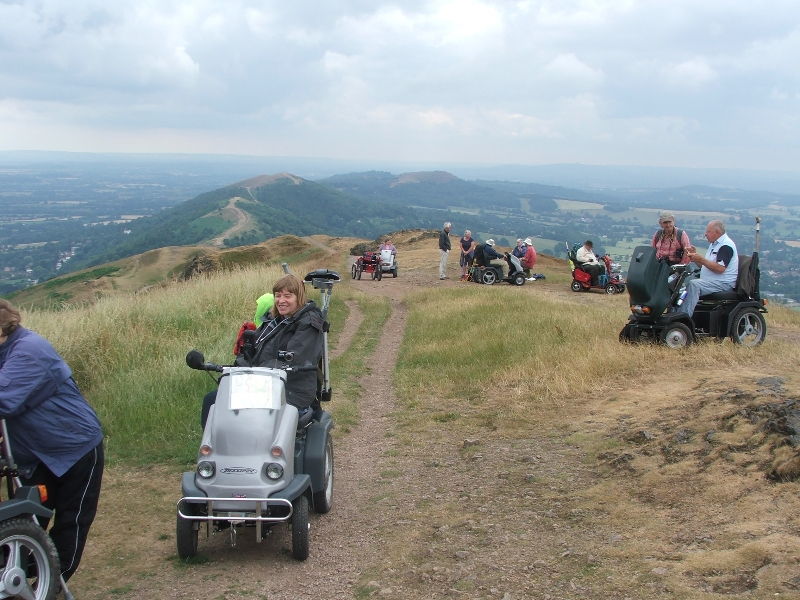 On next Friday 7th September we are running a ramble on the Malvern Hills, Worcestershire.
5.5 miles, Cat 3-.
10:00 for a 10:30 start.
Starting from the Wyche Cutting, we climb to the summit of Worcestershire Beacon (the highest point in the county) before descending to Lady de Walden's Drive which takes us all the way around North Hill. On a clear day the views are fantastic, reaching 40 to 50 miles all around.
This will be the first time we have been able to go all the way around North Hill and is only possible now thanks to big improvements kindly made for us by the Malvern Hills Trust. Beck Baker, their Community and Conservation Officer, will be coming with us and will be able to talk about some of the history of the Hills and the flora and fauna living here. She will be taking some photographs to help publicise the work of both the Malvern Hills Trust and the Disabled Ramblers.
A Loan Scooter is available to the first taker.
You can see the route on ViewRanger but the starting point might be different: https://my.viewranger.com/route/details/MTg2ODUyOA
If you would like to attend please contact chairman@disabledramblers.co.uk