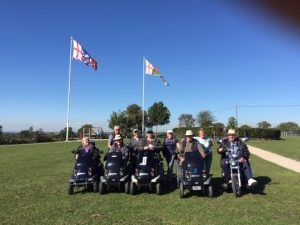 For more photos please click the link.
Ten of us set off, on a beautiful sunny morning, from Market Bosworth
Country Park on the Leicester Round.  We passed closely by the lake, where
we saw a large heron. In the wooded area after the park we met a group of
Nuneaton Ramblers who stopped for a chat.  We continued a little further on
and then stopped for short coffee break before climbing the steep hill, over
farmland up to the village of Sutton Cheney and onto Bosworth Battlefield
site. We stopped at the top of the hill, where we had a 360º view of the
surrounding countryside, for a photo call by the flags and Richard III's
seat, after which we continued to Shenton Station for lunch.  A steam train
was due to call at the station during lunch but yesterday we had to settle
for a railcar instead.  After lunch we all went into the small glass blowing
gallery at the station for an interesting demonstration by Richard, who
explained about his work over the last 40 years. Continuing we passed King
Richard's Well and returned to the heritage centre to ice creams and cakes,
before returning to the car park at Bosworth Country park.
(Judy)