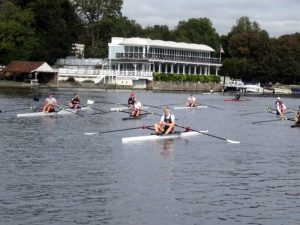 To see more photos please click here.
Henley on Thames ramble with The Ramblers – 30th September 2018
Lucy has been working with Henley & Goring Ramblers group over this last year to try to get the message out that there are plenty of rambling opportunities for the disabled of Henley and area to access the countryside and have a lovely time in the beautiful area surrounding the town. Today was the official launch of Henley as a "Walkers are Welcome" town and along with Alie H of Henley & Goring Ramblers, Lucy was assisting in the town centre with the publicity stall so to help Lucy, (can't be in two places at once!), 6 Disabled Ramblers, led by Wim H (Alie's husband), did the ramble alongside the Thames from Henley to Hambleden Lock and on to the Flowerpot Hotel at Aston for lunch.
This is a typical example of why linear walks are very rewarding because there was something going on around us all the time. Often linear walks don't seem to be too popular but we always find that going back "the other way" brings things to our attention that pass us by on our way there. Along this stretch of the Thames, as you will see from the photos, there were young people practising their skill with sculling – and with the coaches on their bikes dashing alongside the river path complete with megaphone yelling instructions (and very good humoured towards us too) – various interesting boats, people running for charity, dog walkers, fields around us with huge flocks of Canada Geese – which obliged by taking off in a huge mass and landing on the river, as they passed you could hear the whistling of their wing feathers – overhead were quite a few Kites circling and waiting for something they could swoop down to eat, several little pleasure boats with flags flying were going up and down, and as well as all this activity there were lovely buildings to see en route.
As we approached the Flowerpot Hotel we saw a couple approaching, the lady on a boot scooter, we were just going to hand over a DR leaflet when to our great delight we saw that it was Keith and Brenda Harris, who many of the older, 00ps! I mean longer, serving DRers will remember well. They had taken the trouble of coming to meet us at the Flowerpots and to catch up with news, it was a lovely surprise and there was yet another to come as Keith told us that Jim and Dorothy Mills were waiting at the pub to see us too. It was a real treat to see them – their presence is sadly missed on our rambles, however, they are all doing well but are not able to take part in rambling nowadays. What a really super surprise to see them all.
After lunch, we managed to get back to Henley just in time to go and see Lucy and Alie in the town at the stall and have a quick natter. I think the day went very well for us all and many thanks to Alie & Wim for all their help in assisting Lucy to put on some super rambles in the area and also it's great to see Lucy becoming a really efficient and enthusiastic ramble leader. Thanks very much to everyone who came, the support of members of our group helps to get the word out, as well as people you meet who are always interested in what we are doing on our scooters.
Val & Bob.