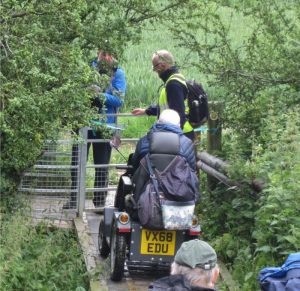 For more photos please click here
Winchcombe Path opening – with Disabled Ramblers and Cotswold Voluntary Wardens – Wednesday 12th June 2019.
Back in 2015 our DR member, Eileen Scannell, led the pioneering reccy of this route which highlighted where improvements were needed and this has, in turn, enabled the inaugural ramble to take place, sadly Eileen couldn't attend on the day and we all missed her.   Arthur Lee led on behalf of Disabled Ramblers, and Mr Paul Clark, Chair of Cotswolds Voluntary Wardens was their representative for this very scenic ramble also accompanied by some of his colleagues as well as some representatives from Natural England Lady Ashcombe of Sudeley Castle, generously hosted the event and following refreshments, kindly provided by the Cotswold Vol. Wardens, we made our way across Home Park and along the Wardens Way, to hold a formal opening ceremony by the new ramp and RADAR gate at the exit from the park before climbing up to Parks Farm and on to Deadmanbury Gate, where the views open out across the Cotswolds. After stopping for lunch, the route passes Roel Hill Farm and Roel Hill Gate before descending back to Sudeley Castle for tea. This ramble is a Cat 3.  5.5 miles distance. The going can be fairly challenging depending on the conditions at the time, some rough grassland, field edges, steep hills but all the way it is very beautiful with terrific scenery over the surrounding countryside. We had a good turnout on the day and great fun was had by all, including a tumble or 2 (or 3 or 4) but no harm done, so all adds to the excitement! The ViewRanger link is as follows: https://my.viewranger.com/route/details/MjA5NTQ4NA==
The Cotswold Voluntary Wardens, the voluntary arm of the Cotswolds Conservation Board, have been working on easily accessible paths across the Cotswolds for many years, but this new route marks the beginning of longer, more challenging routes for use by off road mobility scooters.  The project has involved hundreds of hours of voluntary effort on installing gates, surface improvements and negotiations; working with the support of the Disabled Ramblers, landowners and the Gloucestershire Council rights of way team. The route will be available for everyone to freely download after the launch on the Conservation Boards website at www.cotswoldsaonb.org.uk. We are very grateful to them for all their hard work and dedication in making this route accessible for us, bearing in mind a lot of the work was undertaken in the depth of the winter.  Many thanks to all involved.