Paul Stallard, 31st December 2019

We have learnt from Paul's wife that he passed away yesterday, the 31st December. Paul was a stalwart supporter of both our regional rambles and HRA's rambles and tried to come on all of them if he could. He was taken ill suddenly earlier in December but unfortunately did not recover. He will be greatly missed by both groups.
——————
The Thanksgiving Service for Paul on the 24th January was very moving and a wonderful opportunity to have an insight on what an interesting and worthwhile life Paul lead. We learnt that as a young man he went to University, obtaining a degree in his chosen subject which lead to a career in aeronautical engineering. He was instrumental in designing filters for helicopters, which are still in use to this day. He had a very successful career in aeronautical engineering and rose up to a high position in his company. In his spare time Paul had a close family, 2 lovely daughters and a stepson. He loved cycling as a younger man and when he married Patricia in 1991 he took up her much loved pastime of fell walking and climbing, which took them all over Britain and abroad. They also performed in amateur operatics, Paul being a base baritone and Patricia was a soprano, they travelled extensively with their operatic company throughout Europe and made many friends during that time. In 2007 they had just completed a 3 week long walk in NZ when Paul suffered his spinal stroke. He fought very hard to get better but his mobility was badly impaired, which was when he acquired a scooter, donated to him by his friends in his company to give him independence. Then, he heard about Disabled Ramblers and was a constant attendee on nearly all of our rambles, you could always rely on Paul to come along if at all possible. He was a keen connoisseur of food too, and loved the Christmas lunches and enjoyed his favourite glass of red wine with his meal. You never heard him complain, and he went to exercise classes and the gym several times a week in order to help himself as much as possible, and took his beloved golden retriever, Harvey, for a walk everyday. He enjoyed a stint as President of his local Probus club and was involved in local community and Council matters along with his wife, Patricia. He and Patricia also made lots of jams, of all flavours, which he brought along to rambles – the proceeds went to Stoke Mandeville Hospital where Paul was treated for 8 months after his spinal stroke. The Thanksgiving Service was a fine tribute to Paul, and he will be sadly missed on our rambles. We all raised a glass of red wine as a toast to Paul, our best wishes to Patricia and his family, he was highly thought of by us all.
————————————————————————————————————
Angela Wynn, May 2018

I am sorry to have to tell you of the death of Angela Wynn, in May of this year. She was a remarkable person, very much involved in the creation of the Fladbury Easy Access Path, which starts and ends at her home.
David has sent the following message:
Angela was such a support to me and came as a walker so that I could go to rambles.
Although we had problems with her when climbing long steep slopes she still persevered and was so proud on the day that she walked 8 miles. Angela was 82 when she died, we had almost 51 years together, and had lived at Fladbury Mill for more than 41 years. Her great love was the 20/21 British Art Fair which she and her business partner created about 30 years ago to promote British Art, and this Fair was held annually for most of its time at the Royal College of Art, in London. The last Fair was held last year at The Mall Gallery's in London before she retired. She loved London and the countryside and is sadly missed.
Angela was David's driver but he'd like to go on rambling and may be able to come out with us again when modifications are completed on his car.
Jan Kemp, Membership Secretary
———————————————————————————————
David Parker. 16th August 2018

I am sorry to have to tell you of the death of David Parker
Hugh and Jill, our Northumberland Regional Reps, have written to say that:
David lived near Newcastle. Despite suffering from respiratory problems he joined us in a number of local Rambles as well as taking part in national rambles. He was a lovely man always positive and really loved the freedom his Tramper gave him. We will miss him and our thoughts are with his wife Jan.
————————————————————————————————————————————————-
Elwyn Davies. June 2018
I'm sorry to have to let you know of the death of Elwyn Davies. Elwyn was a member of the Disabled Ramblers from 2007 to 2013. I only met him once or twice and remember that he was always cheerful. He is pictured on the ramble we did for Countryfile on Offa's Dyke.
On 16th June 2018, The Western Daily Mail said,
DAVIES Elwyn Peacefully in his sleep at home, in Llanspyddid Brecon, Elwyn David, affectionately known as Elwyn The White House.
The dearly beloved husband of Jean, loving father, a dear bampa and great-bampa.
Elwyn will rest in Maelgwyn Funeral Home until the service on Monday 25th June 2018 at Llwydcoed Crematorium, Aberdare, 3pm. Donations if so desired for Air Ambulance, kindly received by Doug Prosser, Maelgwyn Funeral Home, Brecon, LD3 9AY.
———————
Elwyn was really proud and bragging about his £6 purchase of a florescent waterproof jacket from ALDI or LIDL. He was chuffed to bits. That same day on Dartmoor by Okehampton Camp at lunch time there was a hail storm and he got absolutely drenched. He wasn't at all pleased.
Elwyn was involved in the creation of the book of rambles for the disabled in the Brecon Beacons with English one way round and Welsh the other way round. It was out of print last time we enquired last year.
He could never leave his scooters alone.
He was always taking them apart to see how they worked and half the time he couldn't get them back together and working again.
Lovely man who will be sadly missed by those who knew him.
Linda & Peter
—————————————————————————————————-
Victor Prince 21st May 2018
I'm so sorry to tell you of the death of Victor Prince. Vic joined DR in 2013, shortly after a diagnosis of Motor Neurone Disease and he and his wife Lesley were very active ramblers for several years. On Mon 21st May, after increasing problems with his breathing, his life support was turned off.
You'll remember Vic's racing green Tramper and also his generous spirit, good sense of humour and, not least, his technical know-how and fine workmanship. It was Vic who provided the design for the Tramper trays produced in support of MNDA.
Typically of Vic, he's ensured that as many things as possible are in place for Lesley after his passing. There's no date settled yet for the funeral but please get in touch if you'd like more details later on – and of course if you have a message for Lesley I'll pass it on: disabledramblers.memsec@gmail.com
---
Sue Jeffery 2nd May 2018
I'm so sorry to have to tell you that my dear friend and neighbour, Sue Jeffery, died at 11:00 last night. The Jeffreys and the Kemps discovered Disabled Ramblers about ten years ago, as walkers in support of our friend Steve. Later we stayed on in his memory and then because we loved DR.
Sue and Ted would always lend a hand with anything – towing loan scooters, wrestling with the toilet tent, bringing spare waterproofs or hand warmers for other members to use – and always in the front line for pushing people through tricky spots…mud or no mud.
When Sue began to get ill, Ted adapted her TGA to look remarkably like a Harley and they started fund-raising for DR. Each year they raised hundreds of pounds by having a big anniversary barbecue in their garden and invited the neighbours in exchange for a donation to DR. The parties would go on to the small hours but it didn't matter because all the neighbours were there.
Sue and Ted were the first people to renew membership this year and even when she was very ill Sue hoped she'd manage one more ramble. But it's not to be – and I'm not the only one who will miss Sue very very much.
Our thoughts at the moment must be with Ted – and if you have a message for him please send it to disabledramblers.memsec@gmail.com
————–
We were most saddened by the news that Sue Jeffery has passed away. Sue was such a joyful and fun person to know. Kind, loving, always helpful to others and with a great sense of humour. Sue and Ted added so much to our enjoyment of rambles when they came along. She will live long in our memories.
Dorothy & Tony Dickens
————
---
Sue Raymond 22nd April 2018
I'm very sorry to have to tell you that Sue Raymond passed away in hospital last night. Sue had been a member of DR for eleven years and was for a time a member of the committee. Until recently she and Colin (and their skull and crossbones flag) were a familiar part of our rambles.
I met Sue on my very first DR ramble back in 2009 and we got on well straightaway. Sue was a straight talking, witty, always up for a challenge, very generous person and was a keen attender at DR rambles where she had many friends, and also on HRA rambles here in Hampshire and she and hubby Colin, rarely missed a ramble until the last year or so when suddenly her health started to deteriorate. Several years ago she acquired her beloved "Darley" TGA Supersport scooter and complete with her trademark skull and crossbones flag they had a super time exploring the countryside both around their home and on the organised rambles. It was a shock to learn of her passing away and her presence will be missed by all of us who knew her. Many happy memories of Sue always accompanied and looked after so well by Colin.
Val
———————————————————————————–
Laurence Cherry 22nd September 2017
Rosie tells us that "Laurence Cherry passed away suddenly but peacefully on 22nd September in Eden Valley Hospice. He loved his disabled rambles and was really happy to have been able to join the rambles in Derbyshire earlier on this year."
Laurence joined the Disabled Rambles in 2011 and took part in most of our northern rambles whenever there was a loan scooter available.
Laurence was perhaps our nearest member, living in Wigton, Cumbria and I regularly used to meet him going in to play bowls at Penrith Leisure Centre in the days when I used the gym. Ron.
Bob and I (Val) spent an enjoyable day with Laurence at the DR ramble in the Borders at Bowhill Estate in June, he was with his lady carer and we all enjoyed the views and the day very much. He was obviously a very valiant man but made the best of his problems, we were very sorry to hear the sad news of his passing away. Such a shame. This is a pic of us all having a coffee break that day.
———————————————————————————————————-
Rob N'Onions 22nd July 2017
Mike Kirby, one of our long-standing members, has let me know that "Sadly Rob O'Nions also known as onions / Bob / Unz, an MS sufferer, passed away Saturday 22nd July after several health problems". Rob was a member from 2001 to 2005.
Mike goes on to tell us "Rob and another friend bought probably the first production Tramper MK 1s Chassis numbers 7 and ? having seen its first TV outing on Countryfile I think.
We also led a memorable Disabled Ramble in the Swansea area, and took the first Tramper to the top of Pen-Y-Fan mountain 886m ( seemed higher when in feet ! )
That same summer we led 1/2 doz Trampers to the top (well some broke them through being impatient!)"
———————————————————
Funeral Arrangements:
O'Nions
[ Passed away Saturday evening 22 July 2017 ]
Robert Michael
Treasured memories of Robert Michael O'Nions who passed away peacefully on the 22nd July 2017 surrounded by loving family and friends beside him. Beloved husband of Nadja, much loved father of Henri and Rosie, brave son of Margaret, brother of Susan and much loved papa of Callum and Charlie. Rob will be lovingly missed by all family and many friends.
Funeral service Wednesday 9
th
August, at Swansea Crematorium at 2pm followed by a Service of Thanksgiving at All Saints Church, Oystermouth at 3pm. Followed by a reception in Norton House in Norton, Mumbles.

Donations in lieu of flowers for Nanocentre & Institute of Life Science may be sent (cheques only please, made payable to 'Swansea University')
c/o William Pressdee Funeral Directors,
1-2 Stanley St, Mumbles, SA3 4NE.
Telephone: 01792 366513
__________________________________________________
Dr Mike Bruton MBE. 24th May 2017
It is with great sadness that I have to inform you that our President and Founder Member, Dr Mike Bruton MBE, died in the afternoon of Wednesday 24th May having suffered from several bouts of pneumonia and a short period of time in hospital.
His son, Roger, tells me:
Dad passed away peacefully at home with family members around him.
I remember that Dad was very active in the Disabled Ramblers and enthusiastic about promoting access to the countryside for all. I have lots of photos of Dad out and about including quite inaccessible places.
Dad's funeral is taking place at 2pm on Thursday 15th June at the Oxford Crematorium, Headington OX3 9RZ followed by a reception at St Nicholas Church Hall, lsfield Rd, Old Marston, Oxford OX3 0PR from 3-5.30pm.
The intention is that the service and reception will give everyone an opportunity to celebrate Dad's life and share memories of him.
No flowers by request and donations to Muscular Dystrophy UK charity.
——————————————————————————-
MIKE BRUTON MBE
We first met Mike Bruton at the 1998 Mobility Roadshow in Crowthorne. He was manning a stand at the show with Karoline O'Neill to promote the newly constituted Disabled Ramblers (previously known as the Countryside Access Group). His engaging personality immediately impressed us. He spoke with such enthusiasm about his aim of enabling people with disabilities to enjoy the delights of rambling in the countryside, and described his experiences since his first organised ramble in 1992. We had always been keen ramblers and we were very excited by the prospect of continuing to enjoy the countryside now that Dorothy had become disabled, so we joined straight away.
What followed from this first contact transformed our lives in many ways. Mike's leadership was inspirational and his calm, kind and considerate manner gave so many people the confidence to be more adventurous and widen their view on what could be possible for them to achieve. Nobody was turned away whatever their physical disability might be. The organised rambles not only gave us a real sense of achievement but also provided a joyful social experience. Mike's natural charm and persuasiveness also succeeded in encouraging members to take on committee work and other tasks necessary for the smooth running of the group.
His key partnership with Robin Helby provided technical brilliance and a genuine spirit of adventure to complement Mike's political diplomacy and campaigning zeal. Their work together raised the awareness-levels of government agencies and decision makers, resulting in the many countryside access improvements achieved by Disabled Ramblers.
The fact that Disabled Ramblers has now lasted 20 years and has gone from strength to strength is in no small measure due to this remarkable man's dedication in the early years and Mike's MBE was a well-deserved recognition of his work.
May he now rest in peace?
Tony & Dorothy Dickens
———————————————————
We are so sorry to hear the news that Mike Bruton has passed away. We didn't know him personally, but without him and the original team of founder members who helped him develop Disabled Ramblers we wouldn't have the chance to belong to this great group where we meet such a wide and diverse amount of people. We have a lot to thank Mike for and will always be very grateful he was so courageous and far thinking in spite of his own disability.
Val and Bob.
——————————————————-
This is the saddest of news, I have been very gratefully reflective this morning. Dr Bruton's 'vision' has opened up the countryside to the disabled as well as creating a brilliant 'get-up & go' community in DRO. I am so very sorry, for people like myself Mike will always be an inspirational legend.
Charles.
—————————————————
Thank you for letting me know. I knew Mike quite well – particularly when he was Mayor of RBWM. A great enthusiast for rambling and disability rights and access generally.
A good man.
Best
John J.
——————————————–
Thank you for letting us know about Mike – a sad loss. Since I joined DR he has been 'disabled rambling king'
At first, in the 90's, to spark interest in the new outfit in Maidenhead we encouraged members of the Shopmobility scheme to join us and gradually expanded from there. Mike was very active in local politics being a member of the local District Council and eventually, Mayor of Windsor & Maidenhead – a very prestigious post.
This had a beneficial spin-off for DR – e.g. special way in to Windsor Great Park and use of Cumberland Lodge. I remember also having lunch in the building at Dorney Lake (used for the 2012 Olympics) and meeting some of the very fit rowing teams for the World Rowing Championship taking place there. What a contrast with us DR members!
Mike was cheerful and encouraging despite his physical handicaps – a wonderful man.
Brenda Harris
——————————————-
So sorry to hear of Dr Mike Bruton's death .
It was through him and the organisation he helped set up that I was inspired to return
to the hills which I thought was something beyond me with my disabilities.
Chris Greening (Copeland MS Society and Disabled Ramblers)
——————————————————————————————–
DR MIKE BRUTON MBE
Mike Bruton suffered from Charcot Marie Tooth (CMT) a hereditary muscle wasting disease. From what he told me, on various occasions, it did not strike him until he reached his late twenties. Before this he had been a keen walker and cyclist. He often pointed out to me, on our rambles, places he had visited in those days.
Mike worked for British Airways (BA) in various Information Technology roles, where I first came into contact with him. At first I just knew him as a project manager with whom I had little contact. This all changed in September 1990 when Mike asked for volunteers to pull him along the Ridgeway Path in a chariot made by BA apprentices. His idea was to get groups of volunteers to pull the chariot for some 10 miles each to publicise CMT and raise some funds: this we did, often at a sharp trot on a very warm day. Mike survived in his aircraft seat (not 1st class) much better than the rest of us.
This event was followed by an annual ramble on the Ridgeway organised by Mike and supported by the AA. We always had one of their vans with us to do running repairs much needed as buggies were not then as reliable as now. This went on for some ten years up until the Disable Drivers group was formed which was to morph into the Disabled Ramblers.
Mike's last task at BA was as manager of a project based in Saudi Arabia which involved him in a lot of travel to that country which he did in spite of increasing muscle weakness.
After Mike retired I lost contact with him until just before my own retirement when he rang me asking if I could assist with his next great project a trip down the Thames Path from Oxford to Maidenhead, his home town of which he was later to become mayor. Four disabled, one of whom was Robin Helby, were to take part with three helpers.
I will not go into details about the expedition but one incident which shows Mike's attitude to life will always stand out in my mind:
We had come, very near the day's end, down, somewhat warily, a very steep slope into what was almost a ravine and were then confronted on reaching the bottom by a flight of horse steps. We managed to haul the buggies to the top but how could we get Mike up. He had a solution to slide up on his bottom, grinning broadly, using some ramps we had with us – problem solved. At the end of the walk Mike had arranged a meeting with members of the great and good. Mike had an ability to draw in all sorts of contacts if he felt they would help his cause.
The last time I saw Mike was some six months after his first wife had died. A number of his ex-work colleagues had arranged a lunch at a pub to cheer him up a bit. Mike arrived and made an announcement – he was to remarry! Jaws dropped – how typical of Mike – he will always be much missed.
I will finish with a couple of anecdotes from others showing Mike's attitude to life:
In earlier times I worked with Mike on a project and we were in joint arrangements with the Swiss and the Dutch – lots of travelling to Europe – Mike never missed a trip. But one of my lasting memories was of Mike slipping and falling badly in a slippery Zurich subway. I, of course, rushed to help him but he absolutely refused help and returned to the upright position with the aid of his two sticks. Bruised and breathless he marched on, and he would not speak of it, so typical of Mike in everything he did!
My experience of crossing the main road between our hotel and the Saudia compound (a road of many unmarked virtual "lanes" carrying chaotic traffic) which at first I almost dreaded crossing it. But the first time I did it with Mike he just held up his walking stick. Stepped limping slightly into the road expecting the traffic to stop for him – and it did – problem solved.
John Birmingham
You can read more about Mike's life on our History page
___________________________________________________________________________________
Peter Flick, 3rd May 2017
We were very sad to hear of the recent death of Peter Flick, our Regional Rep in Devon. He was a member of Disabled Ramblers for ten years and organised a number of rambles for us in Devon and Cornwall, both on a National and Regional basis.
Peter was a great character, very bluff and hearty, and one memory that comes to mind was in Devon about four years ago, he was on his Tramper and we asked him what the furry object on the front chassis of the scooter was and he said it was a sash window weight that he had wrapped in the furry covering of a paint roller to act as an "anti-wheelie" device so that it made the scooter able to cope with the hilly terrain he regularly reccied.
We remember him with affection and his presence on rambles in Devon and Cornwall and with the Cornish Rolling Ramblers will be greatly missed.
His cremation will be on 26th May and there'll be a Service of Thanksgiving in South Tawton Church on 30th May. No further details, such as time, are to hand at present.
Val.
—————————————————————————————————————————-
We were so sorry to hear of Peter's death. He was a good person to know and always a joy to meet and chat with on our Devon rambles.
Tony & Dorothy
—————————————————————————————————————————
We remember his glorious week of Devon rambles well and also how exhausting he found it which surprised him. Thanks for letting us know.
Love L&P x
——————————————————————————————————————————-
Peter was kind enough to help me run seven wonderful rambles on Dartmoor in 2014. He told me a bit about his passion for cross-country running with clubs called the Hash House Harriers who have branches all over the world. I've copied his obituary (below) from Devon Orienteering. John.
For details of funeral arrangements and thanksgiving service please see below.
Club members will be sad to hear that Peter Flick passed away this morning, 3rd May 2017, in the RD&E, Exeter. Through his hashing connections, Peter was known universally as "Biggles". He had been a long-standing member of the club and contributed whole-heartedly to tasks associated with numerous club events -and to the work of the club committee -for many years. Please see the tribute below, written by Roger Green.
Funeral arrangements
Friday May 26th at 13.00 St Paul's Chapel, Exeter Crematorium and afterwards a buffet at a nearby venue to be confirmed.
Thanksgiving service
Tuesday 30th May at 14.00 St Andrew's Church South Tawton and afterwards food and drink, venue to be confirmed.
No Flowers. Donations in lieu in aid of the Dartmoor Railway Supporters Association.
Both services to be conducted by Canon Tim Newcombe.
Reminiscences of Peter Flick
Peter Flick was a larger than life character full of bonhomie who made his presence felt by having a powerful voice. If you wanted someone to call out names at the Start he was your man. He was a bit of a legend in his own lifetime.
We first came in to contact with Peter Flick in the 1980's. We had joined the Teign Valley Hash and from time to time we received a 'Fixture List' from somebody called 'Biggles'. Apparently he was the hashing guru who everybody looked up to. I think he had founded Ashburton Hash House Harriers where he got his hash name, as he wore a RAF style flying helmet. He produced this small booklet called 'Hare you well!' which told you how to lay trails. This we consulted when finally we laid a trail for TVH3. After we had been hashing for a few years a young orienteer from East Devon, whose real name escapes me, but was known as 'Squit' decided to set up another hash to be called Otter Valley H3. Many orienteers, including us, joined. We went to the first hash from Otterton and 'Biggles' was there to help it on its way.
After a while Biggles saw the good points of yet another activity involving the Great Outdoors and got himself involved in Orienteering. He was not a great athlete, although he had run the London Marathon in the distant past, but confined himself to the easier courses and getting involved in the running of the club. He served as Chairman for one or two three year terms. He also did some training and got himself a Public Service Vehicle License. He then hired 52 seater coaches and drove us to Galoppens in the New Forest and Forest of Dean. He also drove minibuses to Wales, Sussex and Yorkshire for JK Festivals. He was an acknowledged expert in crossing muddy fields in a loaded minibus at about 30 miles per hour. It was a bit frightening but he could do it OK.
He also used to act as a midpoint checkpoint for the Dartmoor Long O events. He had a four wheel drive Landrover which came in useful moving orienteering equipment about.
Once, a long time ago, we were invited to a special hash starting from Newton Abbot Football Stadium. By a subterfuge Biggles was offered a lift to that evening's hash but was diverted to the Stadium where he arrived amid a standing ovation from massed hashers from around Devon. It was Biggles's 60th Birthday and well worth celebrating!
I remember going to Peter Flick's 70th birthday at the Angler's Retreat at Fingle Bridge, along with many hashers and orienteers. There was food and drink and a Hash. At this time he lived at Flood Cottage, somewhere northeast of Whiddon Down, not far from the A30. We used to go there for club committee meetings. He later moved to his cottage called 'Copse' at Sticklepath and we went there for his 80th birthday celebrations.
Peter had many other interests, apart from Hashing and Orienteering. He acted as Parish Clerk for about half a dozen Devon parishes. As a result he knew a lot of landowners and he often got permission for hashes to cross their land.
Another occasional pastime of his was going with a pack of Beagles. This involves following on foot about 10 dogs, hunting for animals. I think they were after hares or rabbits but Peter Flick always said to me that they had never caught anything!
In later years he had trouble getting about and so he treated himself to a mobility scooter. Not just a scooter but an All-Terrain Scooter. He used to take this on a trailer behind his car and meet up with similar gentlemen so they could drive around in a small convoy. I was horrified to be told by him that he had driven himself from his house in Sticklepath to some shindig or other at Gidleigh – in the dark – both ways!
Peter Flick was also a railway enthusiast. If I was in the area I sometimes called in to see him. Apart from chewing over the latest developments in orienteering, we spent a lot of time discussing our mutual interest in railways and I used to borrow some of his books to read. He was involved with the operation of the Okehampton to Meldon Railway and their attempts to get occasional trains at weekends from Exeter to Okehampton.
You may wonder what Peter Flick did before he did all these interesting activities. He owned a garage, in Ashburton, I think it was.
In his later life he encouraged and enabled a lot of people, young and old, to enjoy these varied activities in the countryside. He will be missed by those who knew him and enjoyed his company.
Roger Green
_______________________________________________________________________________
Jane Brittain 24th March 2016
Jane Brittain passed away on 24th March 2016.
She was a practising Solicitor when in August 1984 she was knocked off her bike and confined to a wheelchair for the rest of her life. It didn't stop her doing many things including travelling around the world including trips to Japan, South Africa, Russia and America.
She achieved a unique double. She has been to every Racecourse in Britain and seen every Shakespeare play live. Perhaps her greatest love was walking her dogs usually in Sutton Park but also on most of the accessible trails in Britain.
Annual holidays in York and Norfolk meant that she could explore those areas thoroughly and I was lucky enough to accompany her on all these trips.
Jane found The Disabled Ramblers several years ago and has been on many of the rambles when her busy schedule allowed.
She owned a great Myra power wheelchair and when she was ill in hospital asked me to donate her chair to The Disabled Ramblers in the event of her death.
She wanted another member to have as much fun in her chair that she had.
Phil Jordan (Jane's partner)
—————————————————————————————————————-
We have had some excellent rambles in the past three years with Jane and her lovely dogs starting when Jane showed us a ramble around Sutton Park. She was well known to the Rangers there as she had tackled just about every path in the park in all conditions. With Phil's help Jane was up to tackling all sorts of challenges in her powerchair.
John & Liz Cuthbertson
—————————————————————————————————————-
Condolences to Jane's family
Anna Reid
—————————————————————————————————————-
Very sad news, I feel a great sadness for all our departed members because we're all in the same life-boat, aren't we, on the 'Good Ship' "DR", and God bless ALL who have sailed in her

Terry Taylor
________________________________________
Eric Hindmarsh 12th March 2016
Sad news of Eric's death, he came on several Southern regional rambles and really loved coming into the New Forest with his beautiful dog, Ben.
He was a very laid back, cheerful and friendly person and a pleasure to have around, he had hoped to join us again this year and his company and friendship will be very much missed.
Kind thoughts, Eric…
Val and Bob.
________________________________________________________________________
Mary Grant 15th March 2016
We are deeply saddened to learn that Mary Grant passed away this morning at 9 o'clock our time. She had become increasingly ill and went to spend the last months of her life with her family in New York.
Mary had been a member since 2007; a familiar figure on rambles, with a kindly word for everyone – and always the Jamaican flag flying from her scooter.
We have had the following messages.
To add your own please email web@disabledramblers.co.uk
My mother Mary Grant passed away today. She will be missed.
The greatest joy in her latter years was found in her family and friends, her church and the Disabled Ramblers.
The sense of freedom and empowerment she found through your wonderful group is inexpressible, and my gratitude and appreciation is incalculable.
May God bless you all,
Rev. Dr. Gershwin F. E. Grant
————————————————————————————–
Oh no…..she was such a little darling ! I'll miss chatting about her old days nursing. God speed her journey. Sue Jeffrey xx
————————————————————————————–
We are so saddened to hear that Mary Grant is no longer with us. She was such a wonderful person to know, ever cheerful, generous hearted and brave in spirit. Being with her was always a joyous experience and we will long remember the sound of her infectious laughter that put a smile on all our faces.
Tony and Dorothy Dickens
—————————————————————————————
Mary was a great character and her cheerful presence on rambles will be missed by so many of us who knew her.
Sad news indeed. Val.
________________________________________________________________________
David Cooper 22nd February 2016
"With great sadness, we must tell you that David Cooper, a Disabled Rambler for many years, died at Sobell House Hospice, Oxford on Monday 22 February 2016. David bravely decided not to consent to an operation that would have worsened his disability. In one last effort to help others with MS, David donated his body to the Neuro Research Team at Oxford University."
We are very sorry. Please pass on our condolences to Sandra Cooper and the rest of the family.
Love and best wishes,
Janet and Dave Eden
________________________________________________________________________
Christine Godfrey 27th January 2015
We are saddened to learn that Christine Godfrey passed away on Tuesday of last week. Christine came from Solihull, and although failing health forced her to give up rambling some two years ago, many members will remember her on her bright red Tramper.
We have written to Christine's husband, Phil, and you are invited, if you wish, to post any information, reminiscences or comments about her here.
_________________________________________________
Antony Bennett 31st August 2014
We are saddened to learn of the death of Antony Bennett on 31st August 2014.
Antony joined Disabled Ramblers in 2006 and although we haven't seen him for some time, he's remembered as a very gentlemanly person, quietly reserved but very ready to enjoy a joke. He soon fitted in well with the group and was known for his pleasant nature – always good company as we rambled along together.
We must express our thanks to Antony, who remembered Disabled Ramblers in his Will.
__________________________________________________
Andrew Cross 25th September 2014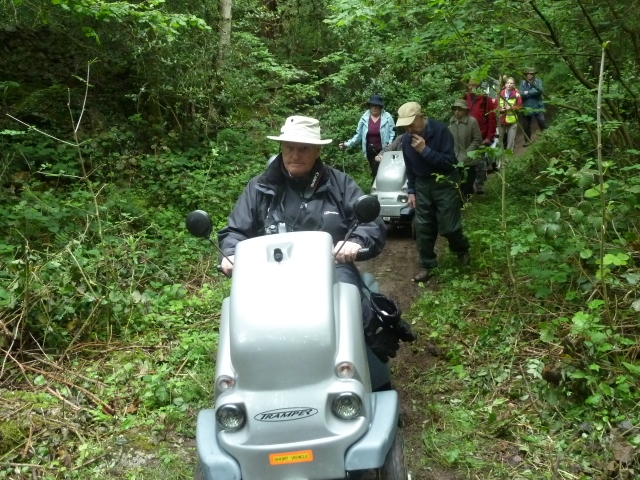 Today I heard that Andrew Cross died early this morning. Andrew has been my right hand man, helping me reccie rambles and being the Disabled Ramblers contact when I was not available. It has been quite a shock as I spoke to him yesterday and expected to see him on today's ramble. Andrew was from Preston and had embraced the Disabled Ramblers with his heart and soul helping other members to get to rambles and with loading and unloading in spite of his own limitations. (Eileen Tomlinson)
Such sad news, we had met Andrew a couple of times last year on the North Wales rambling week, and saw him last at Terry's local walk, what a lovely man, our thoughts are with his family at this sad time.
Lynda & Ron Cridge
So sorry to hear this sad news about Andrew. We first met him last year on our first disabled ramble on Heughscar hill and were amazed that he had come up to Cumbria from Preston. We did not realise how far disabled ramblers will travel. Andrew was forever moving around everyone,taking photographs at every opportunity. He quietly gave us a few ideas and pointed us in the right direction. We are sure he will be very much missed.
Chris and Doreen Greening
Although I only recently got to know him I will miss Andrew and I'm sure Eileen will too.
Condolences to his family and all who knew him.
I am in Spain. I send my condolences to all. D R ramblers
Kind regards, Lynda Mitchell
—————————————————————————————————————-
Clive Leach 4th September 2014
Clive Leach managed his first ramble with us on Tarnbrook Fell and was so thrilled with his experience he booked every regional ramble thereafter. Unfortunately he missed Knott End in August due to being in hospital and sadly died on 4th September. Clive was from Rawtenstall in Lancashire.
——————————————————————————————————————-
30th June 2014
Captain George Power
28th June 1919 – 30th June 2014
We have just had sad news of the death, on 30th June, of Captain George Power – two days after his 95th birthday. He had been a member for the last four years and was a familiar part of our rambles on his early model of the 3-Wheeled Tramper on which he traveled over 7,000 miles!
He was a very enthusiastic rambler and always one of the first to renew membership.
———————————————————————————————————————
October 2013
Don Smith and Monica Jackson
I must sadly inform you of the deaths of two of our members, Don Smith and Monica Jackson.
Don, who died of cancer, had been a member for at least 14 years and many people will have fond memories of him and his wife Doreen with their beautiful golden Labrador dog.
I never actually met Don Smith, however, he had a big influence in my life. Robin put us in touch when I was commissioning my campervan. I had no idea about anything to do with camping or transporting wheelchairs. Don talked me through various things on the phone, thought of issues that hadn't crossed my mind, made helpful suggestions and was generally supportive in what I was trying to achieve. I kept hoping and hoping that we would be attending the same ramble at some point and I would be able to show him the end result of our conversations. Sadly that never happened. But thank you, Don.
Celia
We have little information about Monica, who joined only recently but you are invited to post any information or comments about her or about Don on this page by emailing web@disabledramblers.co.uk.
————————————————————————————————————————–
May 2013
Dr Marion Duncan
We have just heard the sad news of the death of Dr Marion Duncan.
Dr Duncan was a keen supporter of Disabled Ramblers and only a few months ago held a sale of work for our benefit, raising a substantial sum for DR funds.
————————————————————————————————————————–
28th March 2013
Mike Longbottom
Mike Longbottom
1/4/2013 We have just received a message from Mike's daughter, George, to give the sad news that Mike died peacefully in his sleep last night (Thursday 28th March). She said that he has battled really hard but over the last day or so he seemed to have accepted the inevitable and just relaxed and slept.
Mike joined the Disabled Ramblers in 2007 and soon took an active role in helping to run the rambles. He is seen here on 14th July 2010 just about to descend Worcester Beacon on the Malvern Hills with the rescue trailer loaded with a broken-down powerchair. Mike was twice awarded the Wenman Trophy in 2010 and 2011 for his outstanding contribution to the Disabled Ramblers and this year was awarded Honorary Membership.
Mike's Funeral -Wednesday 10th April 2013
Mike's funeral was a non-religious ceremony that turned out to be a wonderfully informal expression of love for a truly special man. Over a hundred people attended, including nineteen from Disabled Ramblers, and we entered the chapel to the comforting music of Glenn Miller's 'Moonlight Serenade'.
The ceremony included poems, prose readings and a section for spoken tributes so I was able to say some words on behalf of Disabled Ramblers about the Mike that we all knew and loved. Other tributes from family and friends expressed similar emotions and feelings for Mike that showed how kind, caring, selfless and genuinely unpretentious he was to everyone he came in contact with.
After the tributes we looked at photos of Mike in the programme, especially one with his beaming smile, while 'Bring me Sunshine' by Morecambe and Wise was played. It was an intensely moving part of the ceremony.
There were more readings and a 'Final Farewell' before we were played out by the 'Exit Music' which was 'Convoy' by C W McCall in memory of Mike's time as a 'Trucker'. This put a smile on everyone's face which I'm quite sure that Mike would have approved of and enjoyed.
It was one of the most memorable funerals I have ever attended and was absolutely right and fitting as a tribute and memorial for our very dear friend. (from Tony & Dorothy Dickens)
Mike's funeral was very moving. It was very informal to reflect the amazing character that was Mike. The chapel at the crematorium holds over 100 people and was full to overflowing. 18 Disabled Ramblers attended, and Tony Dickens gave a tribute speech on our behalf.
Other tributes came from Mike's family, the wife of Tom Bindoff and impromptu memories from the people gathered there. What came over very strongly was how much Mike was loved and respected by all. Everything he engaged in was to do with the countryside and nature and helping other people, and in such a generous way. The Service started with "Moonlight Serenade" by Glenn Miller, followed by the tributes, and there was a lot of laughter from everyone when stories of his exploits were told, and this was followed by readings and poems that made a fitting way to say goodbye. The exit music was "Convoy – C. W. McCall" which sent a ripple of laughter through the audience present. After the Service Mike's family invited all back for refreshments at The Berkshire Arms, and I'm sure that day was the fullest the Berkshire Arms has ever been! (from Val Rawlings)
We were very pleased to see that 17 of our members attended Mike's funeral at Thatcham. The crematorium was packed with family, friends, neighbours & former workmates. We were addressed by a range of people representing those present; several family members spoke sharing fond memories of Mike as brother, father, Grandfather & uncle, as did Gill Bindof as friend & employer. Tony Dickens responded on behalf of Disabled Ramblers acknowledging the huge contribution Mike made to the enjoyment & safety of our members.. Every word expressed about Mike was quickly recognised by us all & he was clearly valued by all of those present. We were very well looked after by the family with a generous buffet at a nearby pub. (from Jim & Dorothy Mills)
Please post any messages of condolence to Gill & Tom Bindof, 23 Brook Street, Watlington, Oxfordshire, OX49 5JH for forwarding to Mike's daughter.
To post messages here, please email: – web@disabledramblers.co.uk.
Cheerful through all adversity; we will miss you Mike. John and Liz.
Colin and I are so sorry to hear of Mike Longbottom's death, but are glad it was peacefully in his sleep. He was a lovely man, always helpful and kind and enjoyed all the rambles. We will miss him so much. Our condolences to his family. God Bless you Mike. Sue and Colin Raymon
May I offer my condolences to George and the rest of Mikes' family. I will remember Mike for his kindness and total lack of ego whilst helping disabled Ramblers. He will leave a big space behind which will be hard to fill. Regards, Sandy Slack
Thank you, Mike, for your constant and solid presence at our rambles. You helped Robin with my ailing Tramper last year so that I didn't miss out on any rambles. You will be missed by a lot of us. Celia
R.I.P. Mike – glad I got to meet him – Mave Hiseman
I'm sorry to hear about Mike's death. Please pass my condolences to his family. – love Caroline Platt (Peak District).
We are so sorry to hear the terrible news about Mike but we are glad he had the loving support of his family around him. We will miss his cheeky helpfulness and of course the great contribution he made in enabling the rambles to happen.
We would be proud to attend a memorial ramble for Mike. Jude and Carole
Well darling man, we hope you are looking down on us all, especially when we are rambling, saying "Good on yuh". Thanks for everything you did for Disabled Ramblers and for your lovely treasured friendship but especially those grand hugs. We will miss you enormously. Linda Peter & Pips
We enjoyed Mike's company on rambles in 2011 and 2012 and, like so many other members of Disabled Ramblers, will miss him and remember him with much affection. Ian and Anne Robertson
Many good rambles enjoyed by us with Mike's support and enthusiasm; we will miss him very much. A notable ramble for us was in the New Forest a few years ago when Mike's dog, Quincey, was playing with the wild pigs in a clearing near our picnic lunch spot – we still laugh about it. Brenda and Keith Harris.
We enjoyed meeting Mike last year for the first time, his enthusiasm for DR was evident, he was a pleasure to chat with. So sad he won't be with us this year, he will be sadly missed. Shirley and John.
What a great guy! Always willing to help any of us in spite of his own disability, and so cheerful it was a pleasure just to turn up for the start of each ramble to be welcomed by that grin! He worked so quietly for us that any problems were hardly noticed and each ramble concluded with a dash to "the facilities" which were always ready and waiting! His mechanical knowledge was often called on and knowing where to get a replacement wheel for the MSU half way up Snowdon was invaluable!! He frequently changed his vehicle to ensure he could fit in with our needs as well as Quincey's and he was the least demanding of us all, always putting others before himself. A wonderful friend who will be greatly missed by us. Jim & Dorothy
Although, as relatively new members, we did not have the long association with Mike that others have had; he was clearly a real Supporter of Disabled Ramblers, both the body and its members individually. Having been towed off on one of our first rambles due to a fake battery, we did experience some of the good humour and genuine wish to help that epitomised Mike. He will be greatly missed. Chris & Ron Lyon
My sincerest condolences to you all, Mike was well loved by all at "Disabled Ramblers". I know I will miss him a lot, always ready to help anybody no matter what problem they had large or small. Tony Hunt
You'd volunteer to be the back-marker and there would ALWAYS be somebody needing to stop or getting into trouble and there you'd be – waiting and consoling and picking up the pieces. We're going to miss you Mike. Jan & Stuart Kemp
We'll miss you big guy! Always will remember you showing off on your new Tramper on Pepper Pot last year. Miss your cheeky grin too – not to mention Quincey's (very) enthusiastic welcome on each ramble. Sue & Ted Jeffery
———————————————————————————————————————
Barney Wilson
22/3/2013 We are sad to report the death in February of Barney Wilson.
————————————————————————————————————————
Ray Allen
22/3/2013 Daphne Allen has contacted us to let us know that, sadly, Ray died suddenly and quite unexpectedly last week.