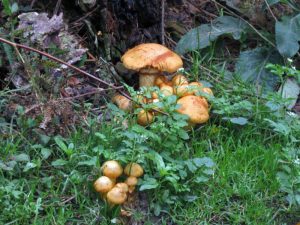 To see all the photos please click here.
Wilverley Figure of Eight
Another lovely day for this really super ramble.  It's a huge car park and there should be ample room, unfortunately, almost all the space got quickly filled up with another group, this time the New Forest Runners, so it was, in the end, a bit of a squeeze  but we managed. We were also entertained by a group of keep fit enthusiasts doing their exercises all around us, their equipment arrived in a horse box before they very energetically began to do their work-outs under the trees.  Wilverley has to be one of the most beautiful of all the inclosures in the New Forest, it was intended to do the leafy inclosure in the morning and the more open Hinchelsea Moor in the afternoon, but due to prophesied weather conditions we reversed the route so that if it rained we would have the shelter of the trees after lunch instead of being in the open.  
So off we went across the Moor – it is a fairly new route for us and one we really like very much, it has lovely views all round of the surrounding forest and is one we want to do during the heather season next year as a regional ramble as it would be a sea of pink with that lovely "heathery" perfume.  One spot of bother was a very narrow path that crosses the bog, on one side is a little bank complete with gorse bush and on the other side is the bog – not drownable in but very muddy – I told everyone to be very careful and keep to the left but then I kept too far to the left and almost tipped! It's only just wide enough to get through and one to bring up with the NF National Park for improvement, (it will be done), everyone managed very well with no mishaps.
We got back to Wilverley for lunch and then set off through the inclosure, which is actually more like an Arboretum planted with many different varieties of trees and also has some fairly steep hills which all add to the scenic quality as you go along.  The Autumn colours are just starting to show with little showers of leaves falling around us, in a week or two it will be in full oranges, yellows and reds and will be staggering. One of the trees on our tea break stop was covered in soft green moss and lichens, and some tree hugging was enjoyed by lots of us.
This was a very enjoyable day and we are looking forward to tomorrow – the last ramble of 2018!