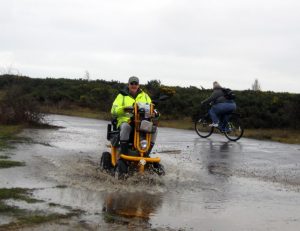 To see more photos please click the link here
Southern Regional Ramble – Hatchet Pond to East Boldre via Turfcutters Arms, nr Beaulieu, New Forest.  – 19th January 2019.
What a forecast!!  Rain showers all day and cold, it put 4 of our valiant members off but as we were leading the ramble we had to show up, so in the end it was 5 of us plus 2 walkers that met in the car park in light rain, but miraculously, within half an hour of arriving – and before we left for the ramble – it stopped and kept away all day.  This was such a relief to us all and we set off up a quiet lane opposite Hatchet Pond to make our way through lovely woodland tracks for the first part of this 5.5 mile winter ramble. Strange thing was, we had 5 different machines – a Tramper, Supersport, Boma, Breeze 4 and Mayan – plus Sheila on her mountain bike and Pete on foot.   En route we met a large family gathering on bikes with a lot of very little children, also on their little bikes, having a great time in Hawkhill Inclosure and making the most of whizzing up and down the hills.
We were pleased to welcome Derek, a recent new member who lives near the pond and so met us there on his Breeze 4.  Coming out of the woodland we went onto a good tarmac track across open heathland, there were quite a few ponies about making the most of the gorse flowers that were out in abundance.  Upon reaching a quiet little car park we had to then go onto a much wilder path that wends its way across more heathland – this was the "problem" bit that we were worried about as we had a feeling it may have become extremely muddy with the recent rain over the preceding few days.  It was, indeed, very wet and quite muddy but we all coped with it with no problem and on the way met a horse rider whose mount was obviously convinced we were up to no good, however, we stopped and she brought the horse over to us and it obligingly had a look at Paula in her Boma and snorted in a very friendly fashion!  Bit disconcerting for Paula as she was low down and the horse towered over her, but it was a good way to introduce us to this particular equine. We had a nice chat and continued on our way over the marshy, wet heathland to the village of East Boldre and our destination for lunch at the Turfcutters Arms.
This was heaven!  We were quite cold by now, and as we entered the pub we were greeted by a lovely rush of warmth and the sight of a super open fire – this is a typical New Forest country pub and they welcome dogs and walkers etc with no quandaries.  We think it is a very old pub as you can see from the photo of one of the quaint signs inside.   We went in and had a good warming lunch and hot drinks, it was just what we needed. Suddenly, it was 3 o'clock and so we had to depart for our short journey back to Hatchet Pond about half a mile away.  This is a really nice little ramble and perfect for a winter trip and to take in the pub en route. We would like to thank all who came, and to say we missed those who couldn't make it, but hopefully, next month we will have another New Forest ramble also visiting a pub for a meal and warm up.
Thanks all, Val and Bob.