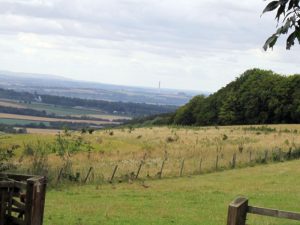 For more photos please click here
Traquair House
With our leader James unable to join us today Bernard and I lead the ramble with thanks to ViewRanger. We started our ramble in light rain.  Having first signed their Image Consent form, we had a group photo taken in front of the house by a member of staff.
We set off and before long had to negotiate a narrow gateway which needed the FSU to be unhitched to be able to get through with the rest and onto a new track. We crossed the road to start our steady accent that became more rugged the further up we went this became rocky and with the drizzle, more muddy and slippery the higher we went until we reached our coffee break. This took a toll on the scooters and caused 2 members to decide to return with Bee escorting them, back to the café by the House.
The rest of us continued slowly up to the lunch break where just before arriving we had more problems with 2 more scooters overheating. With walkers helping the scooters up the hill we reached the top where the climb was worth it as the views across the hills were lovely.
Returning in sunshine and for a while following the tyres tracks we had made earlier, we then turned off this track onto a gravel one, downhill for most of the way with the views of the valley and hills getting better and better.  We met up again with the others in the café by the House for tea and cakes ending an eventful and enjoyable day.
Judy